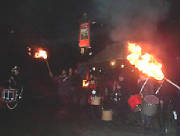 Whether you are a local or
a visitor, here you can dip
into England and begin to
uncover some of its natural
and cultural richness. It is a
small start, we hope to offer
more ways of looking over time
the task here, initially, is
to excite people - as locals
or visitors - with ways of
getting under the surface
of places, offering a way of
looking at the local, a kind
of evolving celebration.
Christmas-time in one
English village
and it is too!
and on and on and on
and....but it's all good
or John Kirkpatrick unleashed
there's a grandson and a
great grandson too, but
that's another story altogether
a very good overview of
what wassailing is all about.
this site from Woodlands Junior School,
Hunt Road Tonbridge Kent, UK
well done children, a wonderful site!!